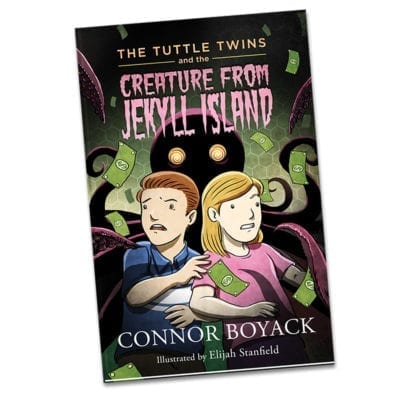 The Tuttle Twins and the Creature from Jekyll Island (#3)
Markets come to life in the third installment of the Tuttle Twins series, with Ethan and Emily exploring a farmer's market and county fair to understand just how controlling the Creature from Jekyll Island can be.
But what is the creature—and why can it raise prices and steal people's money? And what exactly is money, anyway? Your children will discover the answers to these and other questions in this engaging and energetic book!
Monetary policy, central banking, inflation, and other important topics need not be boring—let Ethan and Emily make these ideas accessible and exciting for your children.  Book #3 of 12 in this Series.
By Connor Boyack
Paperback: 57 pages   ISBN: 978-1-943521-02-9
Purchase the Complete Set of 13 Tuttle Twins Adventures at a deep discounted price!