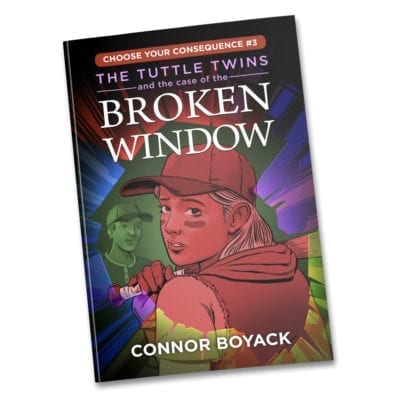 The Tuttle Twins and the Case of the Broken Window
It's a perfect day for a game of baseball, and the Tuttle twins are determined to finally beat the rival team from the neighborhood. The game-winning home run from Emily gets them what they want… along with a whole lot of trouble they could never have expected.

Can they figure out how to make things right with the owners of the broken window? What if they get help from you?
You're there every step of the way as the twins face scheming salesmen, a fleet of bulldozers, and a city out of control. Will the twins face the police and an irate priest? Will they do what it takes to stop some new friends from losing their homes? What about the garden-gnome-come-to-life named Goofer?
They're all here for you to meet, and no one can save the twins from the consequences of the broken window—no one but you.  
By Connor Boyack
Choose Your Consequence Series #3
9 possible endings: 279 pages of content!  ISBN: 978-1-943521-41-8
The Complete Set of 3 "Choose Your Consequence Series" Books are available at a deep discount!