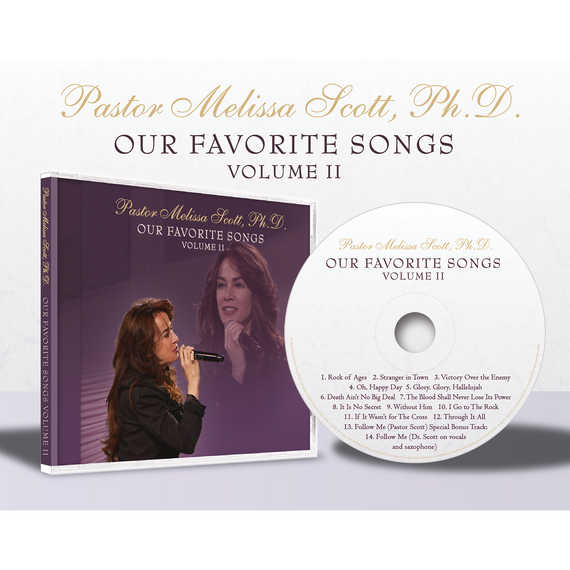 Our Favorite Songs Volume 2
Each of the songs in this collection occupies a special place in my heart.  They were recorded in different places, both in times of trial and times of victory, but always sung first to our faithful God, and to minister to a congregation listening either in person or abroad. 
Like the first volume, these too are some of Our Favorite Songs.
Whether written centuries ago or much more recently, they all were inspired by the wonderful message of the gospel of Jesus Christ.  That thread binds us together with all who call on His name and sing His praise.  May they mean as much to you as they do to me.       
                           ~ Pastor Melissa Scott, Ph.D.
| | |
| --- | --- |
| Our Favorite Songs - Volume 2 |  Full-length CD featuring 14 songs -  |
| Track Listing: |   |
| 1. Rock of Ages | 8. It Is No Secret |
| 2. Stranger in Town | 9. Without Him |
| 3. Victory Over the Enemy | 10. I Go to The Rock |
| 4. Oh, Happy Day | 11. If It Wasn't for The Cross |
| 5. Glory, Glory, Hallelujah | 12. Through It All |
| 6. Death Ain't No Big Deal | 13. Follow Me |
| 7. The Blood Shall Never Lose Its Power | 14. Follow Me -Dr. Scott vocals & sax |