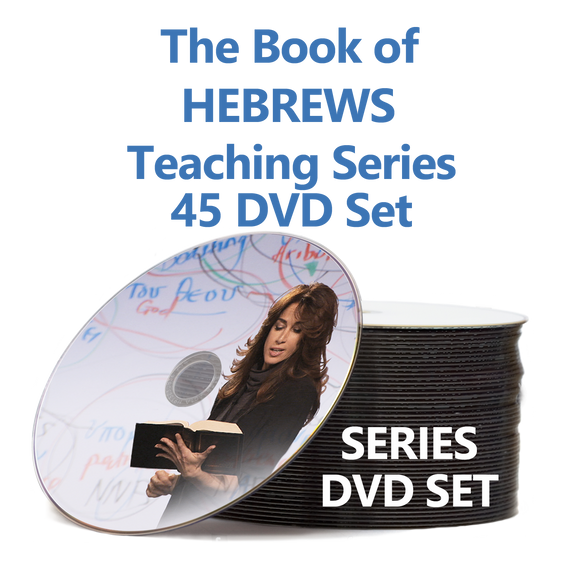 The Book of Hebrews 45 DVD Set
The Book of Hebrews - The complete set of 45 individual DVDs purchased together at a deep discount.
DVDs also sold separately, please click on the VF# below:
VF-1954 The New Covenant
VF-1953 God Had a Plan
VF-1950 Christ Ever Liveth in Heaven
VF-1939 The Law Made Nothing Perfect
VF-1937 Jesus Christ: The Great High Priest
VF-1936 Melchisedec: A Prototype with a Purpose
VF-1935 Recognition of God's Person
VF-1934 Who is Melchisedec?
VF-1932 Tethered Into Eternity
VF-1931 God Is Not A Liar
VF-1930 God Swore An Oath
VF-1929 Daily Dependency On God
VF-1926 Fruitfulness and Receiving God's Blessings
VF-1925 Know The Difference Between Falling and Falling Away
VF-1923 Slothfulness In Hearing That Prevents Progress
VF-1922 Lord, You Have My Ear
VF-1919 Kiss the Paddle; Take God's Correction
VF-1918 God Is Faithful To Keep His Word
VF-1917 MY King Will Rule This Earth
VF-1916 When God Laughs, It Ain't Gonna Be Funny
VF-1915 Uncovering The Power of The Resurrected Christ
VF-1914 The Called of God
VF-1913 Come to The Throne of Grace
VF-1912 With-ness With The Word
VF-1911 True Confession Comes from God
VF-1910 Hold on to the Knowledge of Our Hope
VF-1909 Hold on to Christ: Our Great High Priest
VF-1908 The Influence of God's Word
VF-1907 The Word of God is Alive
VF-1906 Resisting-A-rest
VF-1905 The Divine Source of Joy
VF-1904 Today, Consider Your Worship
VF-1903 Today, Hear His Voice
VF-1902 The Supremacy of Christ Over Moses
VF-1900 The Uniqueness and Value of Christ's Death
VF-1899 Help From God
VF-1898 Help in Three Tenses
VF-1897 God Does the Sanctifying
VF-1895 What is man that You remember him?
VF-1894 Don't Take Your Salvation Lightly
VF-1893 Christ's Superiority Over The Angels
VF-1892 Qualities of Our Heavenly Inheritance
VF-1891 Inheritance Through Faith and Longsuffering
VF-1890 Jesus Christ: Heir of All Things
VF-1889 The Supremacy of Christ