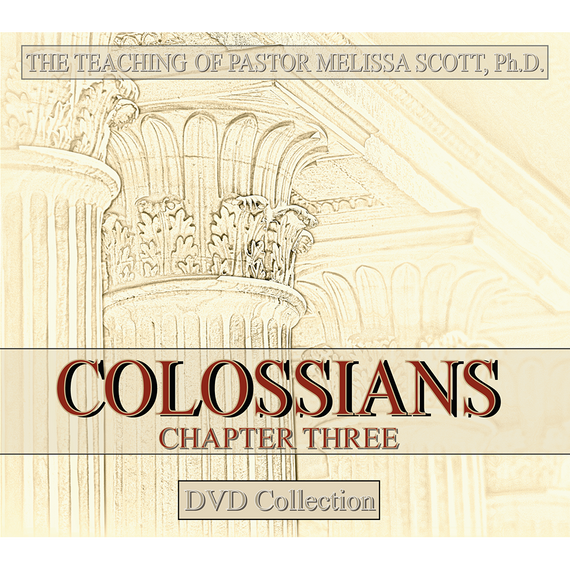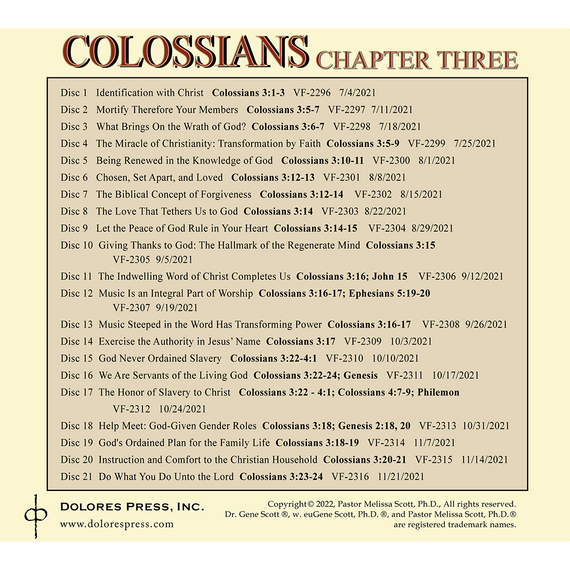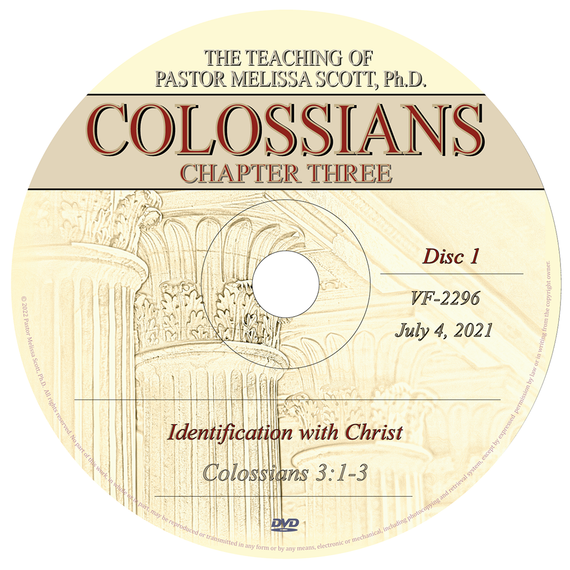 Colossians Chapter 3 DVD Collection
Colossians Chapter 3: The complete collection of 21 DVDs from Pastor Melissa Scott's series on Colossians Chapter 3. Below is what is included in this DVD collection.
These DVDs are also sold individually. Click on the VF# to view the individual DVD:
VF-2296 Identification with Christ
VF-2297 Mortify Therefore Your Members
VF-2298 What Brings On the Wrath of God?
VF-2299 The Miracle of Christianity: Transformation by Faith
VF-2300 Being Renewed in the Knowledge of God
VF-2301 Chosen, Set Apart, and Loved
VF-2302 The Biblical Concept of Forgiveness
VF-2303 The Love that Tethers Us to God
VF-2304 Let the Peace of God Rule in Your Heart
VF-2305 Giving Thanks to God: The Hallmark of the Regenerate Mind
VF-2306 The Indwelling Word of Christ Completes Us
VF-2307 Music Is an Integral Part of Worship
VF-2308 Music Steeped in the Word Has Transforming Power
VF-2309 Exercise the Authority in Jesus' Name
VF-2310 God Never Ordained Slavery
VF-2311 We Are Servants of the Living God
VF-2312 The Honor of Slavery to Christ
VF-2313 Help Meet: God-Given Gender Roles
VF-2314 God's Ordained Plan for the Family Life
VF-2315 Instruction and Comfort to the Christian Household
VF-2316 Do What You Do Unto the Lord