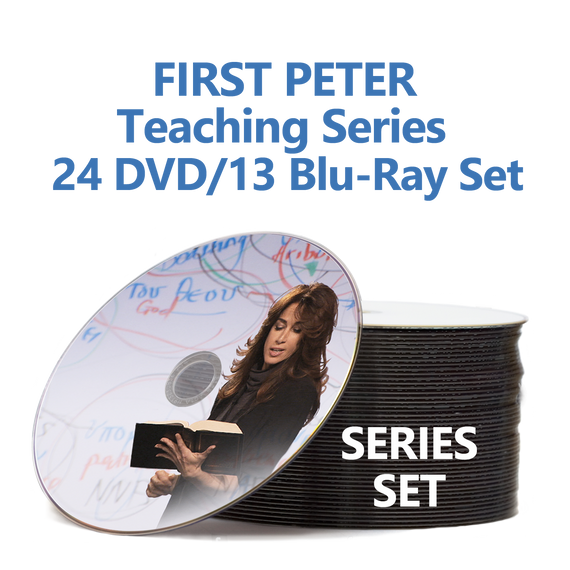 First Peter DVD/Blu Ray 37 Disc Set
The Book of First Peter - The complete set 24 individual DVDs and 13 Blu Ray discs purchased together at a deep discount.
DVD/BluRay discs are also sold separately, please click on the VF# below:
VF-1826 Four Words of Promise
VF-1825 Resist, Be Sober, Be Vigilant
VF-1824 Weight Loss: Our Cares vs. His Cares
VF-1823 Humility
VF-1821 Expect God's Fiery Trials
VF-1784 Jesus Called, Healed and Turned Around- Blu-Ray Only
VF-1783 Suffering As The Slaves of God
VF-1780 Chosen For A Purpose 1 Peter 2:9 (You Are God's Treasure)- Blu-Ray Only
VF-1772 Genesis 32:24 There Wrestled a Man With Him (Jacob becomes Israel - the meaning of Israel)- Blu-Ray Only
VF-1771 Commitment - Foundations of Faith- Blu-Ray Only
VF-1770 Commitment - A Holy Priesthood
VF-1769 Rock 'n' Role- Blu-Ray Only
VF-1768 Got Milk? God's Formula for Growth
VF-1760 The 11th Commandment: What's Love Got To Do With It?
VF-1759 The Withering Work of The Spirit / All Flesh is Grass
VF-1753 Hope Completely. . .
VF-1752 Communion: The Compassion of Christ (The Suffering of Christ and the Glories That Follow)
VF-1750 True Prophecy Teaching Inspires Faith
VF-1749 Eureka! The Finding of Your Faith
VF-1746 In Heaviness, Rejoicing
VF-1744 Garrisoned by God (Kept By His Power)- Blu-Ray Only
VF-1743 God's Ultimate Benefits Package- Blu-Ray Only
VF-1742 The Two "Musts" of Jesus
VF-1741 Patience for God's Blessing: Jacob and Esau
VF-1739 The Watchtower in the Wilderness
VF-1738 The Rock: Broken To Blessing God- Blu-Ray Only
VF-1737 BaRaK: How a Man Blesses God - Blu-Ray Only
VF-1736 Bless God For All That He Has Done - Blu-Ray Only
VF-1735 The Difference Is In The Blessing
VF-1733 Mercy and Grace
VF-1732 The Sprinkled Blood
VF-1731 Man Has a Condition of Sin
VF-1730 Sanctification: The Work of God in a Saint
VF-1729 The Process of Sanctification - Blu-Ray Only
VF-1728 Peter's Salutation
VF-1727 Who Moved The "Elect" - Blu-Ray Only
VF-1726 A Message To The Persecuted Saints- Blu-Ray Only