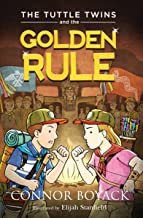 The Tuttle Twins and the Golden Rule (#6)
People throughout the world strongly disagree on many things, yet there is one universal principle—a "Golden Rule" as it's often called— upon which many people do agree: we should treat others the way we want them to treat us.  Book #6 of 12 in this Series.
By Connor Boyack
Paperback:  60 pages  ISBN: 978-1-943521-17-3
Purchase the Complete Set of 13 Tuttle Twins Adventures at a deep discounted price!